The Health Benefits of Tea
It is no secret that we are all looking for a way to shake up our daily health rituals. Look no further because this healthy staple is an effective yet convenient solution. Making it even better yet, you most likely have this gem in your cupboard as we speak!
This drink provides immense health benefits that the average consumer may not even know they are receiving. With June being National Iced Tea Month, it seemed fitting to highlight the new caffeinated beverage in town – TEA!
Okay, it is not exactly new – as teas of all kinds have been sipped on for thousands of years all over the world. However, brewed teas have more recently gained a considerable following in our western health and wellness world for their numerous beneficial properties. Being a beverage that contains no fat, sodium, carbonation, or sugar when brewed naturally tea makes a great contender for your morning (or afternoon) pick-me-up.
Plus, we can count on tea to support our immune systems. Black tea, the most familiar type of brewed iced tea, provides our bodies with a natural form of resistance to numerous types of microbial infections. So along with washing your hands rigorously like we have all become accustomed to, go ahead and include a glass of this delicious beverage to your daily routine! This wonder beverage also helps contribute to an ideal fluid balance and assists in combating high risk of neurological decline and diseases. Yes, you heard me right. Tea holds anti-aging properties. Does it get any better than this?!
It is easy to see Americans love tea—especially iced! According to the Tea Association of the USA more than 159 million Americans are drinking tea on any given day. Iced tea makes up 75-80% of this tea consumption!
At Plascon, we strive to provide superior products to help aid in the process of becoming a healthier and more energized, community. With our Saftea® Liners zip locking top Plascon can offer peace of mind when it comes to the products you are serving your valued customers. Saftea® Liners protect against mold and bacteria, which are commonly found in tea urns and dispenser spigots. Saftea® Liner improves efficiency within your operation while contributing to a healthier and more reliable dining experience.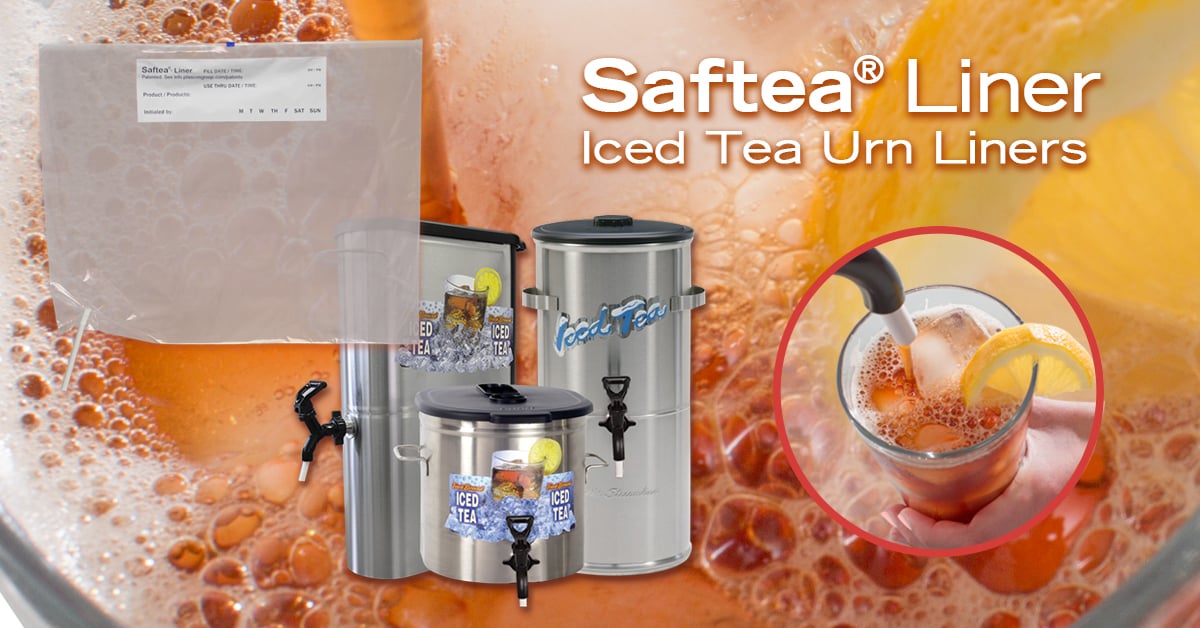 Say hello to your new favorite caffeinated beverage this summer with a refreshing glass of iced tea!
Try Saftea® Liner Risk Free! 
We'll send you a free trial that includes seven liners and one pinch-tube spigot and you can test it free for one week.  We are confident that once you have used Saftea® Liner in your restaurant or convenience store, you will see the many benefits of incorporating this into your daily operations to ensure optimal safety and sanitation for your customers.
---