It was Dolly Parton in the movie, Steel Magnolias, that called Southern Sweet Tea, "the house wine of the South". Talk about the South and sooner or later sweet tea comes to mind. In the South, sweet tea is appropriate for all meals and you start drinking it before you can walk. Sweet tea makes Southerners think of home, tradition, picnics and hot afternoons "sippin" sweet tea while "swayin" in the swing on the front porch.  Summer is a time to sip the cool, refreshing taste of your favorite iced tea. So raise a glass of your favorite iced tea and celebrate!
While sweet tea may be the quintessential southern beverage, the popularity of this tasty drink has exploded in recent years, and is a favorite among tea lovers regardless of geographic location. If you haven't tried sweet tea yet, then what are you waiting for?  You just might find your new favorite summertime (or anytime) beverage! 
Why Restaurants Choose Saftea® Liner 
With iced tea on virtually any restaurant menu, more food service establishments trust Saftea® Liner to ensure optimum freshness, flavor and safety to their valuable patrons.  Saftea® tea urn Liner safeguards against harmful bacteria that can form inside the tea dispenser, and the zip top locking seal protects any accidental contaminates, all while providing a consistent fresh tasting flavor, free from any aftertaste left from residual cleaning solutions.
How It Works
Saftea® Liner comes complete with an integrated tube that slides through the spigot opening on the tea urn. Simply place the liner inside of the urn, and feed the tube through the spigot until it protrudes outside.  Carefully drape the liner of the sides of the urn, and you are ready to either pour or brew the tea directly into the urn. Liners can be refilled throughout the day, but should be replaced every 24 hours.  Replacing liners can be done in less than 30 seconds, and eliminates the need for cleaning chemicals and scrubbing the urns, which is both time and labor intensive.  So not only do your employees benefit from using the liners, but your patrons will notice fresher, and better tasting iced tea as a result!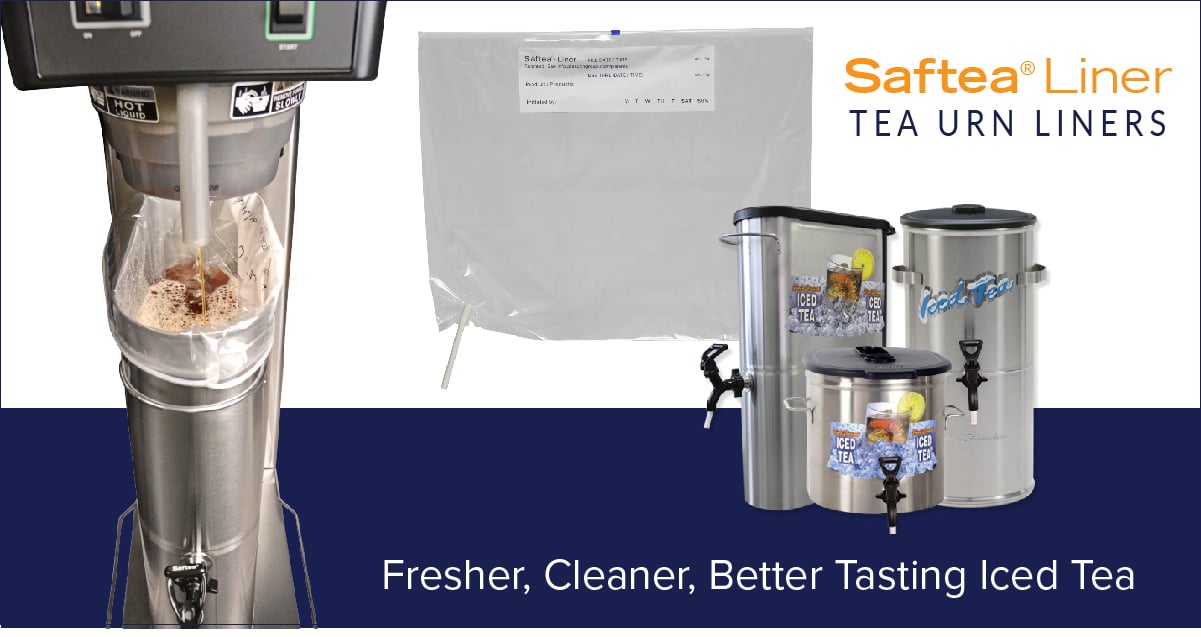 Order Online
Our web store is available 24 hours a day, so you can shop and order replacement liners whenever it is most convenient for you! Contact us with questions or for more information on how Saftea® Liner can help your beverage program.
---