Published by John C. on
August 25,
2020
COVID-19 has changed many things in 2020 but the effects it will have on the hospitality industry will be felt for years to come. The CDC offers Guiding Principles for ways in which restaurant and bar operators can protect employees, customers and communities to slow the spread of COVID-19.
Here are some of the CDC's recommendations that restaurants and bars may consider to slow the spread. 
Behaviors that Reduce Spread
Educating employees about when they should stay home and when they can return to work.
Require frequent hand washing and cover coughs and sneezes.
Require the use of cloth face coverings among all staff, as feasible.
Post signs in highly visible locations that describe how to stop the spread.
Guidance for Maintaining Healthy Environments
Cleaning and disinfection of frequently touched surfaces.
Discourage sharing of items that are difficult to clean.
Change layouts to ensure that all customer parties remain at least 6 feet apart.
Install physical barriers such as sneeze guards and partitions.
Preparing for Sick Employees
Advise Sick Employees of Home Isolation Criteria.
Notify Health Officials and Close Contacts.
Close off areas used by a sick person and do not use these areas until after cleaning and disinfecting them.
Tips for Maintaining Healthy Operations
Offer options or modify job responsibilities for employees at higher risk for severe illness.
Be aware of local or state policies and recommendations.
Rotate or stagger shifts to limit the number of employees in facility.
Use disposable food service items when feasible.
If your Operation Serves Fresh Brewed Iced Tea, Plascon can Help
Our Saftea® Liners are a great way to eliminate a food safety risk, streamline operations and let your customers know you're serious about safety and sanitation. Similar to how a sneeze barrier protects against germs, Saftea Liner in an easy and cost efficient way to add a layer of protection for your iced beverage urn dispensers.  From iced tea, iced coffee, lemonade and fruit drinks, Saftea® Liner seals shut preventing unwanted bacteria from entering the liner and into the glass of your customer.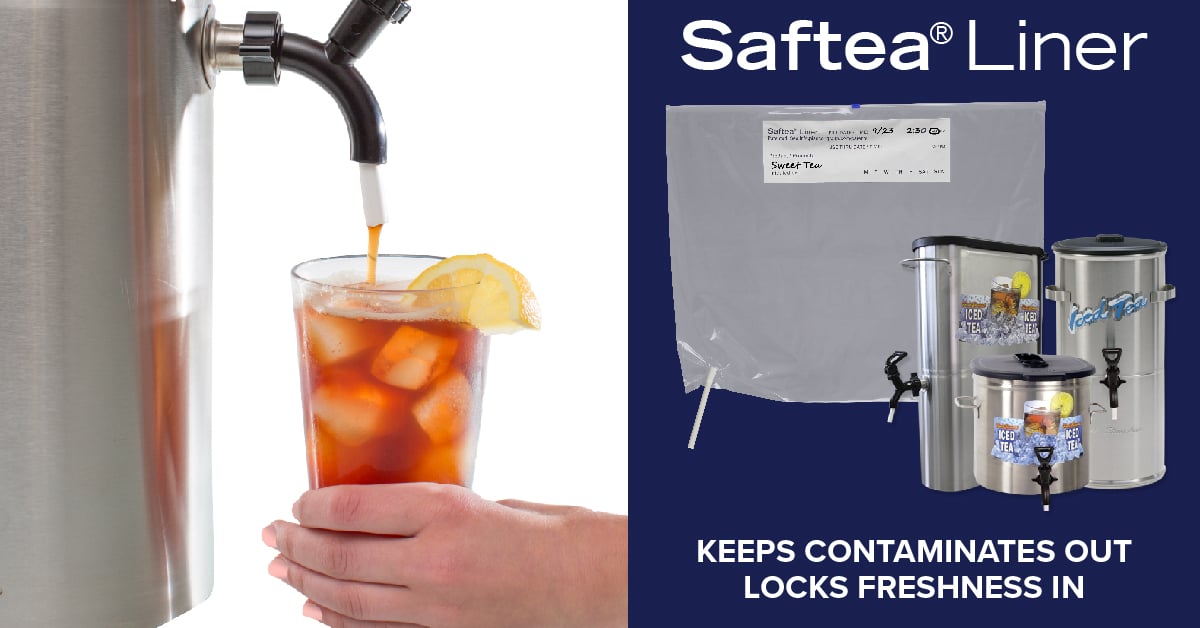 Using the easy-to-change liner removes the potential for surface contamination, ensuring the prevention of bacteria build up in tea urns and spigots.
With the Saftea® Liner you can count on quality, safety and superior sanitation for your Iced Tea Program.
Try Saftea® Liner risk free!  Request our 7-day free trial of Saftea® Liner and see for yourself how simple it is to use, and how beneficial it is especially during this heightened awareness of food safety and cleanliness. Once you've tried Saftea® Liner, enjoy hassle free online ordering whenever you need to restock. 
Tags:
---