Fresh brewed iced tea can be found all over the United States at restaurants, country clubs, convenience stores and really anywhere where food and drink is served. It's actually the 2nd most popular beverage in the United States behind water. People like the taste of iced tea, the health benefits, as well as the cultural reasons.
Most people don't realize that mold, bacteria and fungus begin to grow on the walls of the urns and spigots within about 2 hours after the initial fresh brew of the day. But do you know just how much goes into cleaning those urns and spigots every night? It's quite a process.
How to Properly Clean an Iced Tea Urn & Spigot
To clean the spigots:
Once a day, remove the spigots.
Take each one apart (should be in three pieces) and transfer all three parts to a 3 compartment sink.
Fill one sink with warm soapy water,  a second compartment with cold water for rinsing and the third with cleaning solution for soaking.
Use a wire brush to thoroughly clean the inside of the spigot.
Allow all of the parts to soak in sanitizing solution for a MINIMUM of 10 minutes.
Remove all the parts and allow them to air dry.
To clean the urn:
Fill the urn with water and cleaning solution.
Draw about 2 ounces of that solution through the spigot in order to clean the inside of that cavity where the tea passes through to get to the spigot.
Allow the solution to sit in the urn overnight.
The next morning, using a wire brush, scrub every nook and cranny of the urn for roughly 10-15 minutes.
According to Bunn, who manufacturers a large amount of the urns that are in use in the United States today, these are the steps you should be doing every day to ensure your urns and spigots are clean and producing a safe beverage to drink. Sounds like fun, doesn't it? Now imagine if your store or restaurant has 3 or 4 urns. You have to repeat that process for each urn, every single night.
Use Saftea® Liner to Ensure Maximum Food Safety and Hygiene
There is however, an alternative to using the traditional cleaning methods most stores and restaurants have been doing for years. Yes, cleaning the urns of course works, but who wants to spend 20 minutes per urn cleaning them? Especially when there are products that make it so you don't ever have to clean them again!
That brings us to our Saftea® Liners. The Saftea® Liner is a proven alternative to cleaning urns. By placing just one liner into each urn every day, not only do you eliminate the need to clean and scrub urns and spigots every day, you also ensure you're not serving mold and bacteria to your customers! The liners actually improve the flavor of the tea, protect the tea from foreign contamination, but they are also cost effective allowing your crew to do their clean up responsibilities faster, thus sending the entire team home earlier for the day, which in turn saves your restaurant or store money on labor.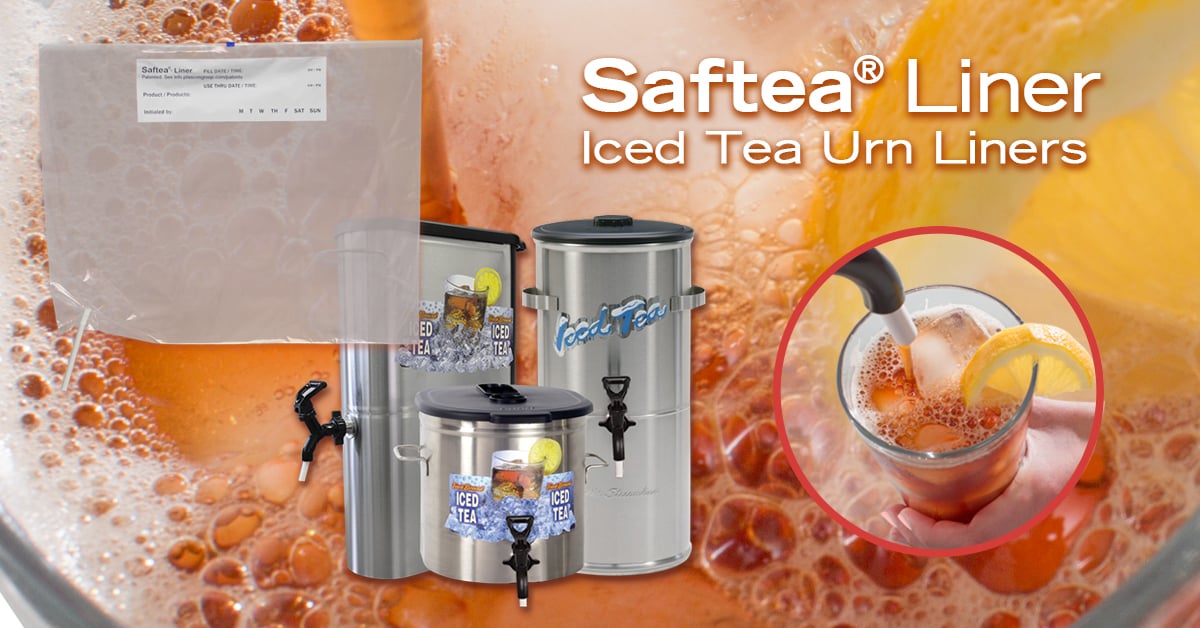 We are always happy to provide free samples for anyone who would like to try them out at their store or restaurant!  Request your free samples here.
Ready to buy now?  Visit our web store and place your order!  With online ordering, you can order 24 hours a day, so if you are running low and need to place an order at midnight, we've got you covered!
Our expert sales team is available to answer any questions you may have.  Contact us today! 
---