Commercial produce growers take a cue from the home gardener!
What is Vertical Farming?
Vertical farming is just what it sounds like: growing upward, in stacked layers (shelves) to maximize crop output in a limited space. It is a new take on what we think of as a greenhouse, only with artificial lighting and temperature in a controlled environment. Vertical farming is typically done without the use of soil, using hydroponics, aeroponics, or aquaponics instead. This allows growing year round, in any location.
Seed Starting Indoors: The Home Gardener
Most home gardeners start their gardens indoors during the Winter with grow lights to get a jump on the growing season and allow them to plant strong, healthy plant starts in the ground as soon as the temperatures warm up. So, how do you take the same idea, and make it into a large indoor commercial farm? Here is a look at how they do it…..
Farming in Shipping Containers
Now the farm can be located right downtown in the city. Growing fresh greens in a shipping container not only repurposes the container but provides a perfect growing environment for varieties of lettuce. Each container produces over 800 heads of lettuce a week on a 320 square ft. footprint. That is the equivalent of 1 to 2 acres of traditional farmland. The vertical farm is engineered to maximize the space so that the nutrient rich water is always circulating. This also means no transportation cost from a long distant farm location, and fresher produce.
Hydroponic Vertical Farming
The process of growing plants without dirt, and still delivering nutrients through an irrigation system. The water in each container is recycled and purified using a dual reverse osmosis machine using 90% less water than traditional farming. Since they are indoor farms there is no need to use pesticides or herbicides. Also, since it's a temperature-controlled environment, means every day is "in season". Without dirt, we are susceptible to fewer pathogens found in the field and deliver a clean product, made convenient for food service.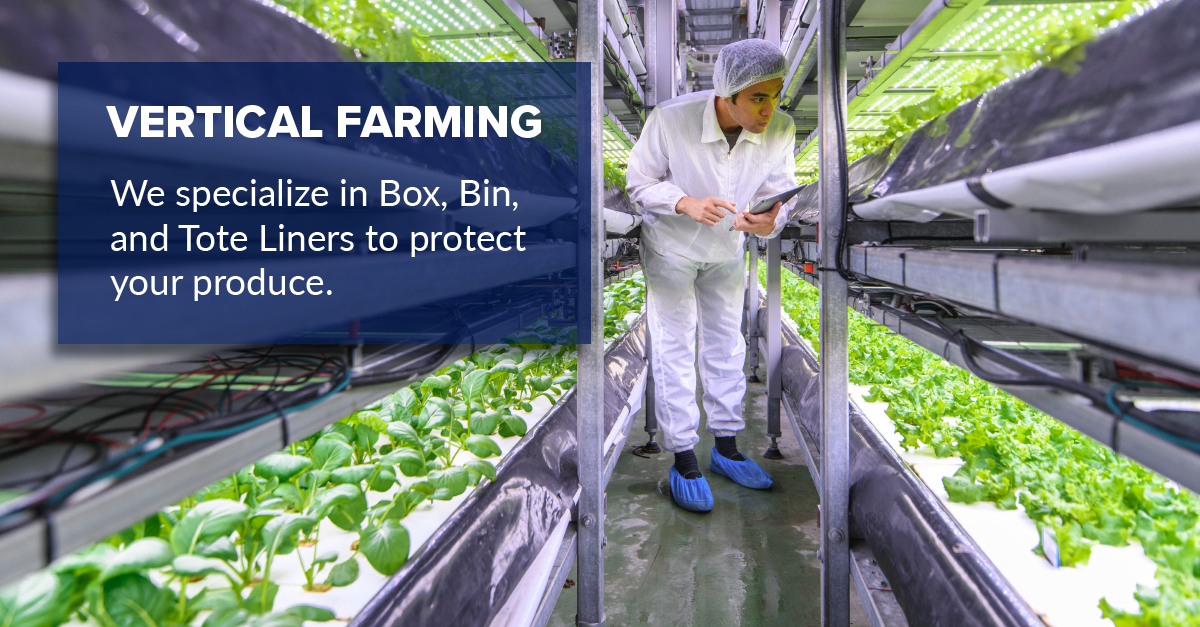 Keeping Your Harvest Fresh
Plascon specializes in liners to fit your box, bin, and totes to keep your harvest fresh and secure during transportation and storage. Biodegradable options are also available! Contact us to see how we can help to preserve your vertical farming harvest!
Spring is right around the corner….why don't you start your own Indoor Vertical Farm this weekend?
---