The Holiday Season is well underway and 2020 is coming to a close. 2020, the year of COVID, Wildfires, Murder Hornets and Prince Harry and Meghan Markle finally calling it quits with the royal family!
For those of us ready to put 2020 squarely in the rearview mirror, this homemade Chai Tea Christmas Cocktail recipe should help.
Chai Tea is a rich, Indian-inspired black tea with lots of spice and exotic flavor. This recipe is an old favorite of ours but were adding some spiced rum because, well,…Murder Hornets.
Indian-inspired chai combines black tea, spices, and a spiced rum option.
INGREDIENTS
2-inch piece fresh ginger, cut into thin rounds
2 cinnamon sticks
2 teaspoons black peppercorns
10 whole cloves
6 cardamom pods
6 cups cold water
6 bags of black tea (preferably Darjeeling)
2 tsp real honey
1.5 oz spiced rum (optional)
PREPARATION
Combine first 5 ingredients in medium saucepan. Using mallet or back of large spoon, lightly crush or bruise spices. Add 6 cups water; bring to boil over high heat. Reduce heat to medium-low, partially cover pan, and simmer gently 10 minutes. Remove from heat. Add tea bags and steep 5 minutes. Discard tea bags. Strain chai into teapot, add honey and rum (optional). Stir and serve warm…. cheers to 2021!
Using Saftea(R) Liner to dispense your iced tea provides maximum safety for both your employees and customers. Since the liner never comes in direct contact with the urn dispenser, harmful molds and bacteria which are common to tea cannot buildup inside the urn. Our patented liner is the only tea urn liner with a zippered closure, preventing accidental contaminates from entering the urn. In the end, the tea served in your restaurant is not only more sanitary, but it actually tastes better without risk of molds or residual cleaning chemicals. Conventional cleaning of tea urns involves disassembly, cleaning chemicals, and reassembly, all which takes time. With Saftea(R) Liner, changing liners takes less than 60 seconds with no cleaning chemicals, and can be done once every 24 hours.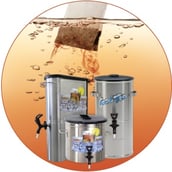 If you are a restaurant operator and have not tried Saftea(R) Liner, we have a special offer just for you! Try a free 7-day supply of Saftea(R) Liners and see for yourself the many benefits that it offers. Not only is a time saver, but you can put your mind at ease knowing you are serving your customers with the highest degree of safety and sanitation. And who doesn't like free? Contact us today to request your free 7-day supply!
---