You may be aware that Plascon is a leading manufacture of Cook Chill Bags, but did you know that we also offer numerous accessory items to compliment your Cook Chill program?
Plascon Cook Chill Bags & Accessories are used in large and small kitchen prep areas, from industrial kitchens to your local diner.  No matter what your footprint size is, we've got a system to help make the best use of time and space.   If you are not using one of these accessories, take a look to see if it might help in your food service routine.
Cook Chill Accessories:
Impulse Sealers:  An inexpensive way to heat seal your bags after filling.  Available in a pedestal foot operated model or hand operated counter top model.
Tipper Tie Clippers & Clips:  THZ400 manual, hand operated wall mounted clipper or high volume pneumatic clippers, both available with optional table mount stands. 
Ring Stands:  Stainless Steel Ring Stands that hold the bags for easier filling.  Available in fixed and the popular adjustable version.
Stack/Nest Crates:  A durable solution for handling, transportation and storage of Cook Chill Bags.
Mini Chill:  Our 32 gallon receptacle with circulator is very handy for cooling (10) 1 gallon bags in under 2 hours.
Adhesive Labels:  These high tack adhesive labels are designed to withstand chilling and boiling.  They are commonly used with printers to label your bags for easy identification
Tyvek Tape:  Highly durable, water-resistant alternative to traditional adhesive labels.  Available on a roll with or without perforations in a variety of widths.  Often used with clipped bags.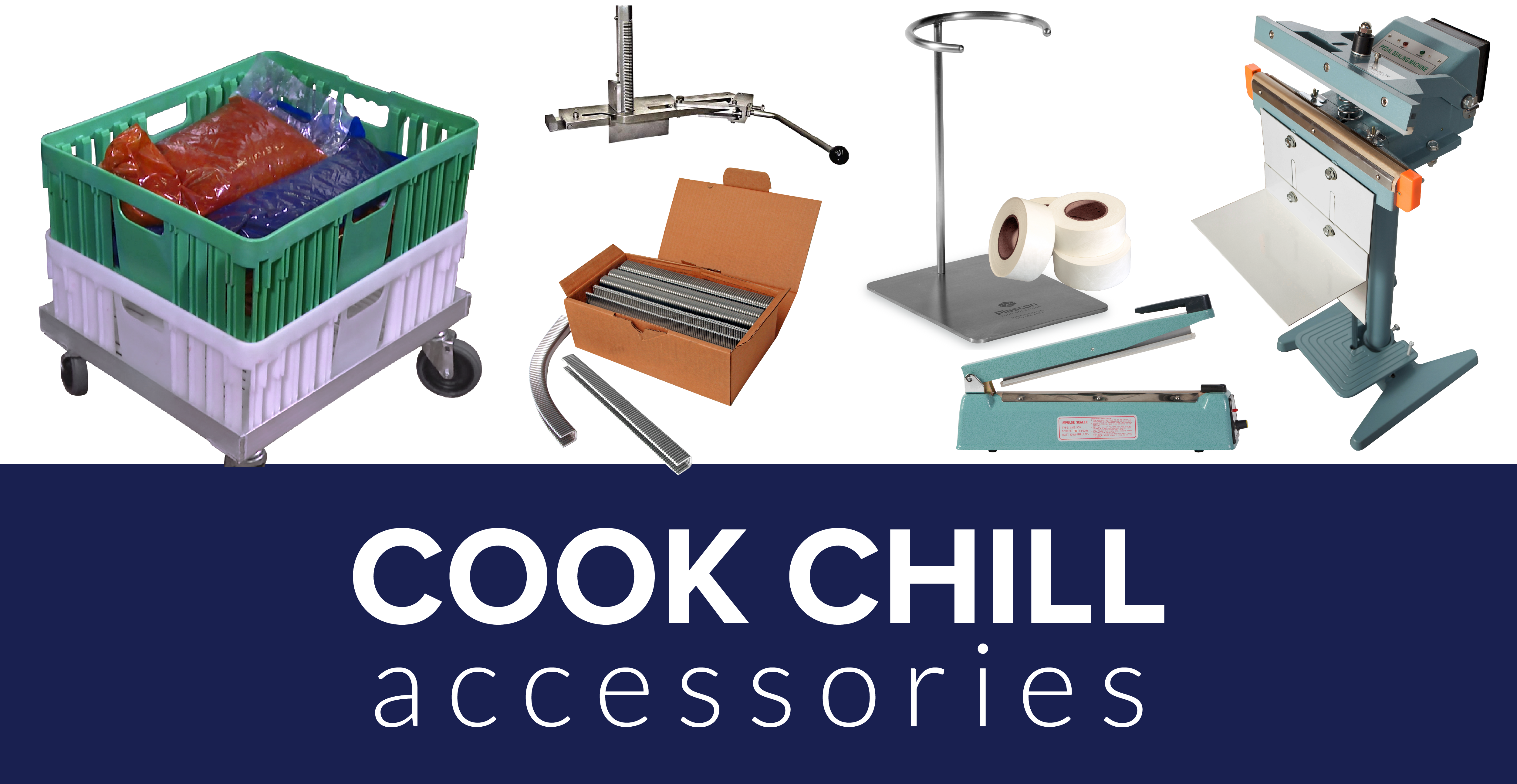 Whether you are new to Cook Chill, or a veteran user of the system, contact us to discuss your setup and we will guide you on how to get started, or provide helpful information on products for your existing operation. 
---