The Worlds Record for the largest iced tea has passed through several hands over the past few years.  It was first held by the restaurant chain Chick-fil-A in 2010 with a 912 U.S. gallons of iced tea. The record was then smashed by Summerville, South Carolina in 2015 with 1,452 U.S. gallons. Not to be outdone, just months later Lipton Tea themselves stealthily took the title with a 2,204 gallon display of the popular drink!
On National Iced Tea Day June 10th 2016, Summerville, SC held a "Record-Smashing Tea Party" in which the town unveiled a massive Mason jar, filled with 2,524 U.S. gallons of iced tea and successfully broke the record. The ginormous sweet tea was brewed using 210 pounds of loose leaf tea and 1,700 pounds of sugar. Sweet iced tea is a staple in the American south. Summerville declares itself to be the "Birthplace of Sweet Tea," after a discovered provision list from the 1800s included large quantities of sugar and tea acquired from the town. Since then, the town has set up a "Sweet Tea Trail," where visitors can enjoy the delicious beverage while strolling along a chosen path of local shops. Refusing to be conquered,Summerville successfully reclaimed and still holds the title for the largest iced tea drink with a colossal jar of the savored drink.
Will Summerville be able to hold on to this Guinness World Records title? Only time will be able to tell if the record for the largest iced tea will stay in the "Birthplace of Sweet Tea."  Kinda makes you thirsty just thinking about it, doesn't it?  
Restaurant Operators Trust Saftea® Liner
At Plascon, we take iced tea pretty seriously!  Our patented Saftea® iced tea urn Liner is proven to protect against molds commonly found in tea. Because the tea never comes in direct contact with the urn dispenser, bacterial buildup is avoided.  Change your liner every 24 hours, and in 30 seconds you are back in business, and can rest assured you are serving the safest, and tastiest iced tea to your valuable patrons!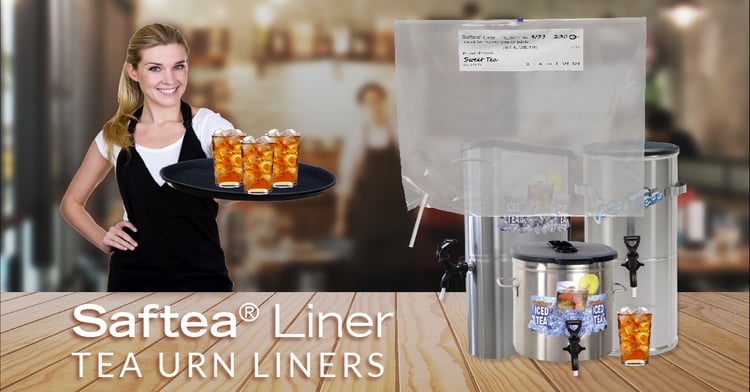 Saftea® Liner is available for purchase online!  With our handy 30 and 150-count cases, there are options for offices and restaurants alike!  In honor of National Iced Tea Month, throughout the month of June we are offering a special promo for our online customers.  Just use promo code 'JUNESALE' at checkout to receive $20 off your $100 purchase.  Raise a glass of your favorite iced tea today, and all month in celebration of this popular beverage!
---