Soups, stews, sauces… these are the typical types of things that come to mind when people think of a Cook Chill System, and those thoughts are not wrong. A Cook Chill System is essential for food preservation and bulk preparation. It makes shipping and transportation easier, and it cuts down on food waste. However, just because the typical method is cook, chill, heat and serve does not mean that it always must be that way. Some rules are meant to be broken and that absolutely applies to cooking.
A lot of businesses think that because they do not have a traditional need for cook chill bags that Cook Chill bags will not fit their business model. However, if you are searching for a method to store your product in a sealed and sanitary manner, Cook Chill bags can offer that solution. Storage items need not be limited to liquid items either. Dry goods, such as herbs, edible flowers, and spices can be stored in bulk in a cook chill bag. No cooking or chilling required.
September is a great time to get creative with your Cook Chill bags with a selection of National food-based days. Not only is September "National Honey Month", but it also has "National Queso Day" 9/20, "National White Chocolate Day" 9/22, and "National Pancake Day" 9/26. While cooked pancakes might not be something to make in bulk and freeze, pancake batter definitely is.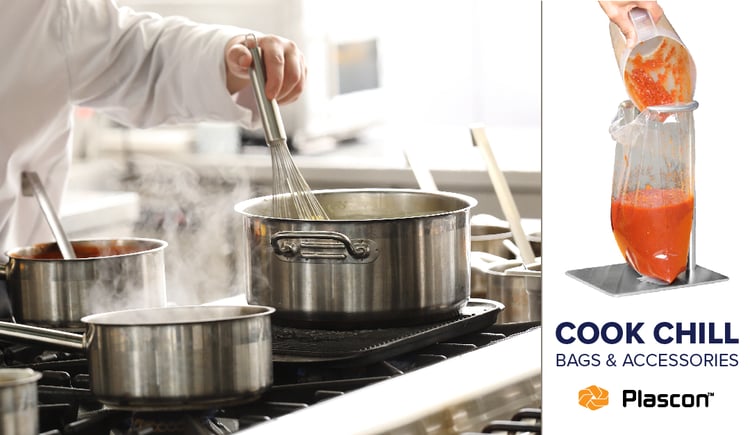 So, if you are ready to think outside the box, or bag, Plascon has the knowledgeable team you want by your side to make your new business adventures possible. From chocolate, butter, and cheese to salads and chips, there isn't much we haven't seen in a Cook Chill bag.
September  Online Promotion
Don't miss out on the savings this month! Throughout the month of September, take advantage of our special promo to take $25 off a online order of $125 or more. Just use promo code 'SAVE25' at checkout! This online exclusive offer ends September 30th 2020, so be sure to visit our webstore soon!
---